Keary's 30th birthday was Saturday. I had originally thought about throwing him a big party, I had even decided on a Dr.Who theme with a TARDIS cake. But then a couple days after
my Grandy had a stroke
, we found out that Keary would very likely be layed off from his job in February. Not exactly the time you need to spend extra money. We ended up deciding to get a babysitter and go to dinner with friends, still a big deal (for us) and not something we do pretty much ever.
We went to dinner with Keary's best friend since third grade and his wife. The same friends whose wedding I missed because I woke up in labor with Gwendolyn the morning of but sent Keary on since he was the best man. Much to everyone's awe, I later showed up at their reception, still in labor, but they weren't close enough or in the window my doctor had told me to go to the hospital for. This is all a whole other story to tell someday though.
We went to dinner and laughed until we had tears streaming down our faces, listening to Cliff and Keary tell stories from their childhood, teenage, and early adulthood years. Stories involving them growing and maturing, and others with them being young and stupid. We laughed and laughed until I mentioned that soon, our kids likely will be doing the same. "That has been my silent fear for the past 5 years, " Keary said.
Anyway, we had a great night out. I'm lightly kicking myself for not taking any pictures, but I experienced the night instead of sitting behind the lens.
This week Keary started a new job too so we have been trying to get accustomed to the new schedule. He is working a Monday through Friday day job for the first time ever. It is taking a bit to get used to, but I think once we find our groove we will like it.
I'm linking up with Company Girls for the second week. Rachel Anne has challenged us to make a baked good from scratch sometime this week. I'm thinking about making my Grandy's Oatmeal Macaroons.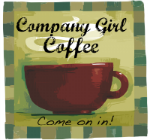 OATMEAL MACAROONS
7 c. oats (Old fashioned) 2 c. flour (all purpose) 2 c. sugar 2 c. brown sugar 4 eggs 2 tsp baking soda 1 tsp salt 2 c. coconut ( I always leave oatmeal out and they turn out fine.) 1 tbsp vanilla 2 c. margarine (melted)
Optional: Chocolate chips, raisins, nuts.
Mix together in a large bowl. Drop by rounded teaspoon onto ungreased baking sheet. Bake at 350* for 8-10 minutes. Cool on wire racks. Store in airtight containers