Gwendolyn is off on spring break this week and she is none too happy about it. She wants to be in school with her friends. And if she cannot be in school, she wants us to do FUN! SPECIAL! things we don't regularly get to do. I, of course, want to oblige but am having issues coming up with things to do.
Sure we could go to the zoo or the children's museum, but that is about an hour and a half drive and Keary has to work. And there will be a kajillion people at both of those places so the girls will have to stay right with me and may not get as good a look at the [insert favorite animal, dinosaur, whatever]. That doesn't sound fun.
So we are going to try to make the best of it at home. Maybe go check out the nature center, pick flowers, eat ice cream (I can't because I gave up ice cream for Lent and that is all I have wanted to eat since Ash Wednesday), have picnics in the backyard. Then maybe we can hit up the zoo next week on her day off school when schools are back in session.
Of course, before we can make the best of the week, I had to stock up on basic foods which required taking the girls grocery shopping. I've
mentioned
how difficult shopping with the girls can be. As soon as we walked in the store, Gwendolyn started asking for this and that. Stuff we never get. "Can we get this pleeease?" "Mom, oooh I've always wanted some of these." I growled and kicked myself for coming to the at lunch time. Again.
And then I caved. We are going to be eating lunch at home all week, you want cheetos? Fine, as long as you don't get that day-glow orange powder on me or make me smell them. You want to make some brownies, fine. Then we came to the produce. Strawberries? No. The last two times we got strawberries, I've had to throw dried rotten strawberries away because everyone is so excited when I buy strawberries, then eat three and are done. No, NO, no strawberries. And then I looked at the strawberries. And I smelled the yummy strawberry goodness.
And we bought strawberries.
And Gwendolyn washed the strawberries for us.
And I made fruit dip so hopefully the strawberries all get eaten this time. And the girls danced and ate strawberries.
Day one of spring break: 0, Us: 1.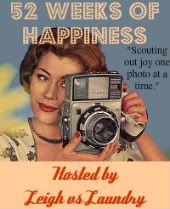 You Capture: youth