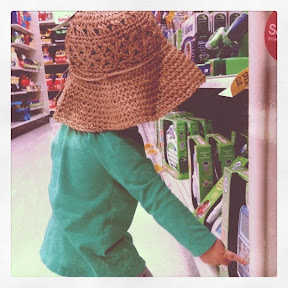 I don't know what happened this week. It feels like it flew by, and I don't think I have gotten a single productive thing done. The piles of laundry and messy house confirm the barely anything has been done. I'll play catch-up and get almost there, then do it all over again next week.
Keary's birthday is tomorrow, so the girls and I went shopping today. *See above, I haven't been on top of things this week. I asked the girls what they wanted to get him. Gwendolyn shouted "socks!" I tried to steer her to other ideas. "Can we go look at girl toys?" "We are shopping for your daddy," I reminded her.
You see where we wound up though: Maggie looking at leapfrog toys and Gwendolyn looking at princess stuff. It is hard to shop for others when you are a kid. It isn't that you don't want to get them anything, there is just so much other stuff at the store tempting you.
Honestly, I was surprised when we made it out of there with only the headset gift for Keary... There were a few thing I was eyeing for myself. I can't very well set an example about how to shop for someone else for the girls though if we come out of the store with more stuff than me than the birthday boy.