I was exhausted last night and put off going through my camera until this morning, meaning I had 100+ pictures to sift through and edit this morning. Someday I will get this process more streamlined. Hopefully, that day comes soon.
We had a great day at the zoo. There was not a cloud in the sky, the weather was cool but too cool, there were very few other people there. Of course, we had moments of frustration with Gwendolyn asking 4000 times to see the polar bears, panda bears, "lions like on
The Lion King
" (the male lion with a mane was not out) or Maggie wanting out of the stroller but didn't want to walk or be carried. But really it was a good day.
There was a new attraction called the Teton Trek that had wolves, grizzlies, and elk. It was feeding time for the grizzlies and they would sit and look at the trainer, then he'd throw the food.
This was the first time I had ever seen the pandas outside. Normally they are inside asleep.
I think the monkey coming down to the window right in front of Gwendolyn made her nervous.
I was
hoping
I'd gotten a decent shot of the giraffe with something other than my phone. I think this is good.
Linked up with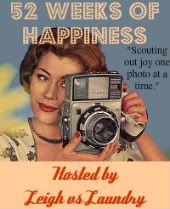 and
Embrace the Camera