The girls and I made a fruit pizza to take to the fourth of July cookout. We used a recipe from
Our Best Bites
and it turned out wonderfully. We didn't use drizzle chocolate over it after we were done like they did, but it was still very good.
As you can see, Maggie kept sneaking blueberries from the pizza. She replaced them later though. The girl just loves blueberries.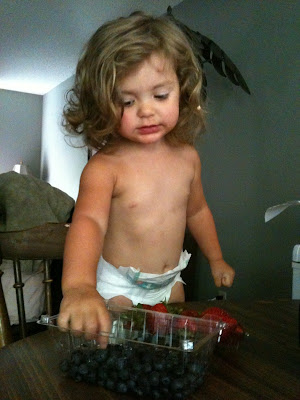 Seriously, she ate berries until I took them away.
We went to the cookout at my cousin's and swam until the early evening hours. We all looked waterlogged by the end of the day. Then we went and watched fireworks. Gwendolyn had been super excited to go see the fireworks all week. Once we got out to see the fireworks though, she complained they were too loud. Of course. Maggie, on the other hand, was completely unfazed by the booms and cheered them on.
I think I got some decent pictures of fireworks. We'll see. It was probably the first time in ten years that I watched fireworks at all, and the first year I tried to take any pictures. I had some issues trying to figure out the best shutter speed, but I have had issues with that all week since I clicked over from aperture priority to manual. I'll get it figured out.
The theme this week at
I heart faces
is red, white, and blue. This was the first picture I thought of when I saw the challenge, and it was taken last October. Look how much Maggie has grown! She still wants to wear that supergirl outfit, though she outgrew it long ago. So now I am on the lookout for a supergirl or wonderwoman outfit to hopefully replace that one.
Also linking up to
Sweet Shot Tuesday
,
Tuesdays around the World
, and
52 weeks of happiness