I took the girls to get haircuts last week. Gwendolyn had been begging to get her hair cut "short like Maggie's and your's" for several weeks. While I resisted the idea at first, thinking she would wish it was long again after cutting it, I finally agreed that as long as it could still be put in a ponytail, she could cut her hair however she wanted. It is just hair, it'll grow back (though Gwendolyn's seems to grow more slowly).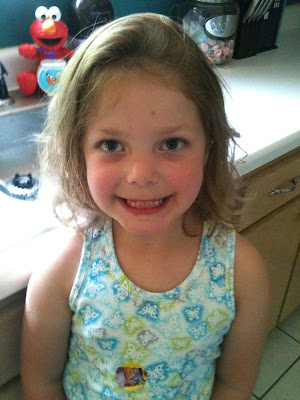 Here is Gwendolyn's after shot. She ended up having three of four inches cut off and some layers added. It is very cute and she is super pleased with it.
It was Maggie's first time to get her haircut. I really expected it to not go well since she is not too keen in sitting still or people she has never met touching her. She did so well though. She sat very still and let the hairdresser trim her hair. She didn't have much cut, a quarter to a half inch-not enough for anyone to notice, but it has helped with the tangling tremendously.
Linking up with Live and Love Out Loud, Project Alicia, Sweet Shot Tuesday, 52 weeks of happiness, Tuesdays around the world, Black and White Wednesday, Little Somethings: Children, Photo Story/ Give me your best shot, Fabulous Friday, Live Every Moment